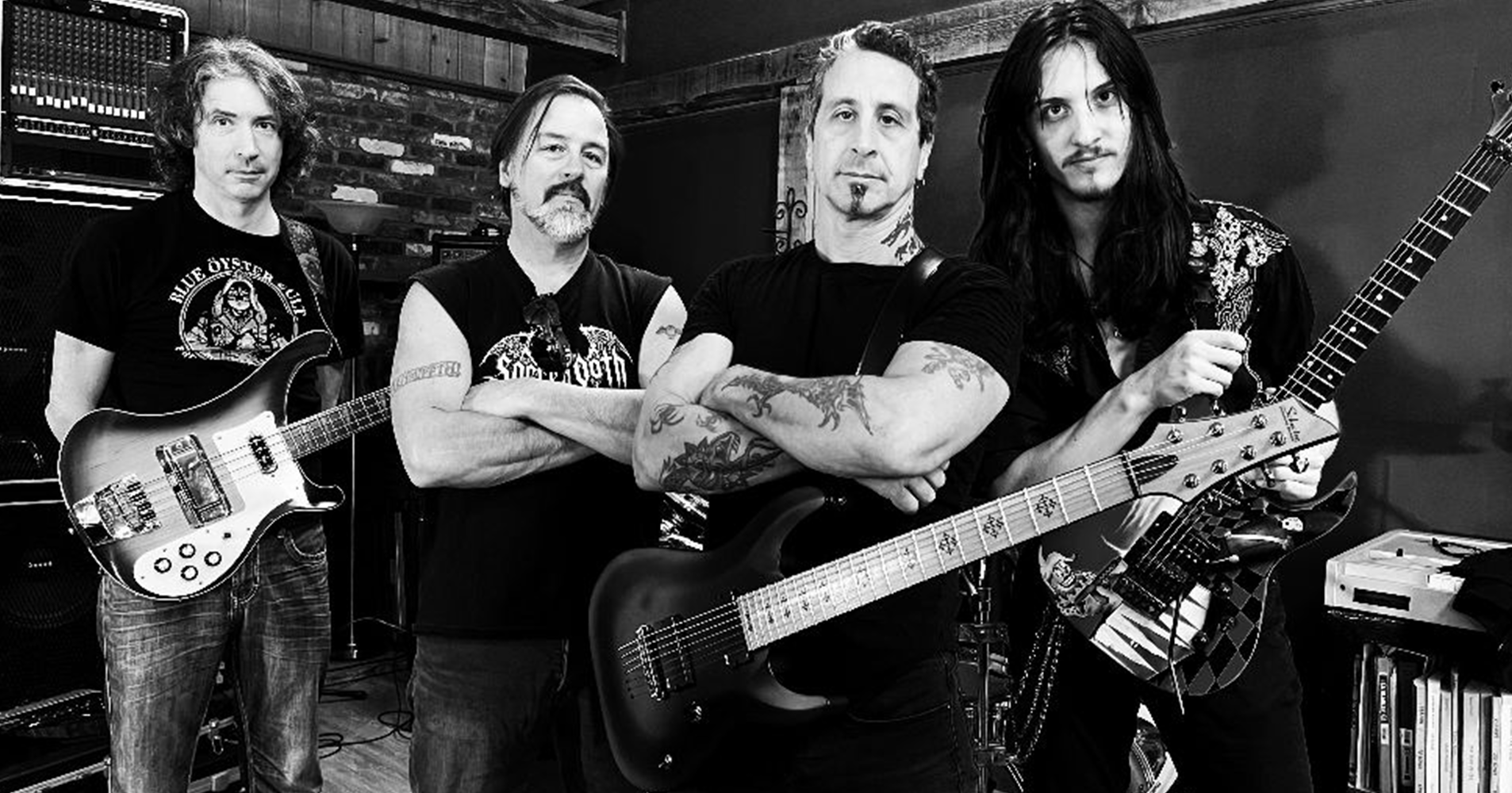 Sacred Oath – The Story
Legendary Connecticut power-thrashers Sacred Oath first formed in 1985 when founding members Rob Thorne and Pete Altieri were daydreaming about rock-stardom as they washed dishes in a local burger joint. The singer/guitarist and bassist were both students at Bethel High School and had ambitions of recording landmark albums and touring the world with their unique brand of dark power and thrash metal heavily influenced by then-contemporary heroes Metallica and Mercyful Fate. They quickly set about recording their first demo "Sacred Oath" and it was an instant local success, selling hundreds of cassette copies in Connecticut record stores. As Thorne spent evenings running copies off a dubbing deck and folding photocopies into crude cassette covers, Altieri launched the band's monthly newsletter "Thrash Inc.," which featured columns about the current local and national metal scene as well as artwork drawn by the band's drummer Kenny "Thundarr" Evans. The artwork became a huge part of Sacred Oath's identity as hundreds of "Oathbanger" fan club members would receive a newsletter in their mailbox at the beginning of each month, each featuring a new art piece on the cover and throughout.
Sacred Oath was quickly gaining momentum, and the band added a second guitarist Wayne Christiano in 1986. A second demo "Shadow Out Of Time" was produced by Fates Warning live-sound guru Dave "Emma" Obrizzo at Trod Nossel Studio in Wallingford, Connecticut and within a few months the band signed a recording deal with Mercenary Records. During this time, the newsletter moniker was changed to "The Invocation" and Wayne was replaced with guitarist Glen Cruciani. Though Rob and Glen were still high school students, Mercenary quickly booked the band into Presence Studios in East Haven, with Obrizzo producing again. The result was "A Crystal Vision" released in January 1988. The landmark debut album went on to become a cult-classic gem of the American power metal movement alongside their heroes and peers Fates Warning, Obsession, and Liege Lord, despite Mercenary Records closing its doors just months after releasing it. The band struggled through a tour of the Midwest without label support and after returning to Connecticut frustrated by the challenges of the road disbanded in December 1988.
The hiatus lasted 10 full years, when out of the blue in 1998 the small independent label Sentinel Steel Records approached Thorne about reissuing "A Crystal Vision." Though working in another band at the time, Rob reassembled Sacred Oath (minus Cruciani) and set about recording bonus tracks for the reissue. It was a success in both America and Europe, and the band followed up with a second album "A Crystal Revision" in 2005. Soon after, a third album "Darkness Visible" was released by Sentinel Steel and the success of that album saw the band doing their first tour of Europe, kicking it off with a headlining slot at the renowned Keep It True Festival in Germany. That first show was recorded and subsequently released as the live album "Till Death Do Us Part – Live in Germany." iTunes featured the live album as a "Top Ten Live Metal Album" the year of release in 2008 and Sacred Oath was on fire.
As bands do, Sacred Oath went right back into the studio to record new music while interest was high. By now, Altieri and Cruciani were no longer a part of the roster and had been replaced by bassist Scott Waite and guitarist Bill Smith. Thorne had assumed producing duties and was recording everything in his own studio. The band put forth their highest-profile offering yet – the eponymous "Sacred Oath" (2009) – and was interviewed on MTV Headbanger's Ball with the premiere of their video single "Counting Zeros" (iTunes Discovery Download of the Week April 9, 2009). By this time Sacred Oath was drawing hundreds of fans to shows and getting airplay on metal radio and video programming with "Counting Zeros."
A couple of bad actors got involved in the band's business affairs, and though Sacred Oath followed up in 2010 with what many considered to be their strongest album to date, "World On Fire" fell mostly on deaf ears. Drummer Kenny Evans sustained an injury to his back during the tour and the band had to finish with a temporary replacement in drummer-for-hire Ignacio Orellana. Burned-out and frustrated by circumstances, Thorne needed a break. Without Evans at the drums, the joy of Sacred Oath was missing for him, and so a 'best-of' compilation "Spells and Incantations" was issued on CD and double LP to fill the gap while the band caught their breath.
With the 25th anniversary of the release of their debut "A Crystal Vision" approaching in 2013, Thorne reunited with original members Altieri, Cruciani, and a now-healthy Evans for the studio album "Fallen." Originally intended as an EP, it quickly evolved into a full-length album under the shadow of the Sandy Hook shootings, which happened just a few short miles from Thorne's home. It would be their darkest album yet. The album was well-received by fans and a distribution deal was put in place with Caroline/Universal Music Group for Thorne's label Angel Thorne Music. An agreement was made for 3 more studio albums from Sacred Oath, which would include "Ravensong" (2015), "Twelve Bells" (2017), the live album "Thunder Underground -Live From NYC" (2019), and now "Return Of The Dragon" (2021).
Like so many others, the story of Sacred Oath is one filled with triumph and tragedy, but not many artists have been as prolific while remaining independent for so long. Sacred Oath has self-managed and self-produced for almost 25 years without a traditional record contract or label support and yet has managed to survive the ups, downs, and numerous obstacles of the industry in the internet-age. And they've done it all through their commitment to producing quality metal music, always. Now, they've put out their best album yet. "Return Of The Dragon" is all the very best aspects of Sacred Oath metal in 10 new songs, each filled with powerful emotion and musicianship in a thunderous aural assault.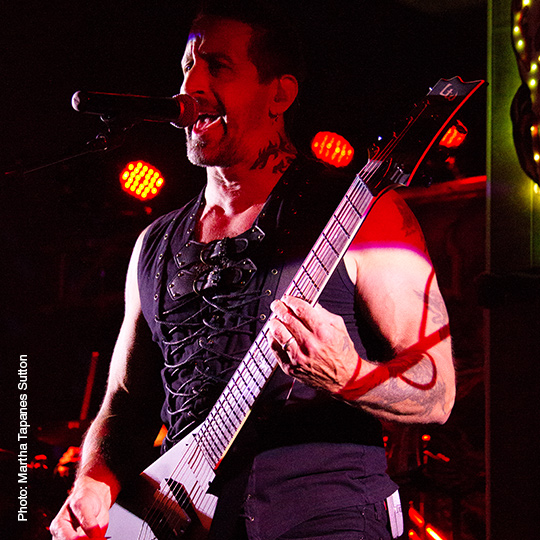 ROB THORNE
Rob is a founding member of the band and has been a primary songwriter from the very beginning in 1985. As lead singer and lead guitarist, he has been a vital part of the Sacred Oath sound throughout the band's 30-year history. In 1998 he also began producing and has been responsible for every album since "A Crystal Revision".
Thorne typically chooses from his collection of vintage Gibson and BC Rich guitars for studio work, but recently added a Schecter 7-string into the mix. "I love the Schechter and the way it sounds on the new album," says Rob. "It's tight, punchy, and relatively easy to add into the mix of guitars at a live show too." Rob also uses Marshall amplification and Line 6 pedals.
KENNY "THUNDARR" EVANS
One of the founding members of Sacred Oath, Kenny combined forces with Rob Thorne and Pete Altieri (original bassist) in 1985 and has played drums on all Sacred Oath albums from the "Shadow Out of Time" demo to the present. In addition to drums, Kenny has contributed to songwriting as well as writing music throughout the years. His art and illustration talents can be found throughout the Sacred Oath catalog, including logos and cover art of "A Crystal Revision" as well as the cover illustration and sleeve painting for "Ravensong".
Growing up on the classics such as the Beatles, Stones, etc. – in 1975, Kenny's music world would forever change after discovering the band, KISS. As a die hard fan of hard rock he also quickly discovered Black Sabbath, Van Halen, AC/DC. He is also a complete fanatic of Iron Maiden as well as Judas Priest, Mercyful Fate, King Diamond, Metallica, Megadeth and progressive legends, Fates Warning.
Evans' influences span from classic rock to thrash metal with the likes of Peter Criss, Keith Moon, John Bonham, Bill Ward, Phil Rudd, Alex Van Halen, Eric Carr, Vinnie Appice, Clive Burr, Nico Mcbrain, Kim Ruzz, Gar Samuelson, Steve Zimmerman, Lars Ulrich, Dave Lombardo, Charlie Benante, and Mikkey Dee. "Mikkey Dee was a pivotal drumming influence on me with the release of King Diamond's "Abigail" album", says Evans.
Outside of music, Kenny enjoys sports – a Yankees-Giants-Rangers fan. He can also be found geeking out to Star Trek, Star Wars and Spider-man.
Kenny plays Tama drums and Paiste cymbals exclusively.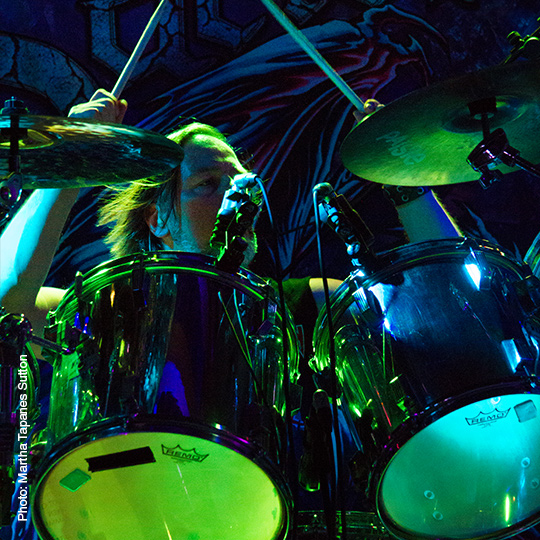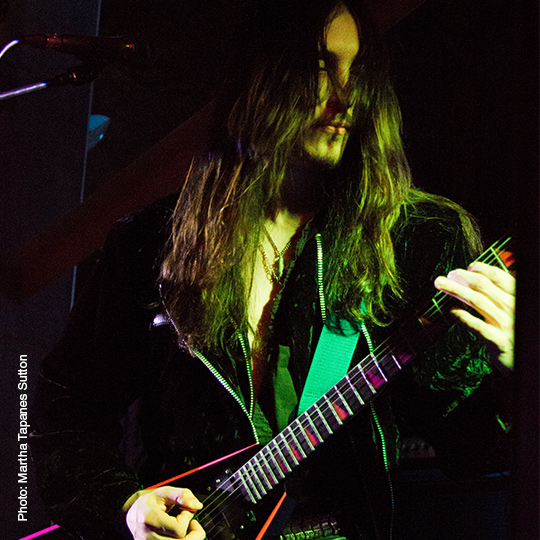 DAMIANO CHRISTIAN
Damiano joined Sacred Oath in 2017 at the age of 18 primarily as a touring member for the Twelve Bells Tour handling Guitar, Keyboards and Backing Vocals.
His love for music started at the age of 3 with Piano Lessons at the Hartford Conservatory but when he heard Randy Rhoads for the first time at the age of 11 and picked up a Guitar, everything changed…
Damiano's influences span from Rock and Metal Guitar Gods Randy Rhoads, Ritchie Blackmore, Vinnie Vincent, George Lynch, Eddie VanHalen and Yngwie Malmsteen to Classical Composers and Pianists Beethoven, Bach, Mozart, Rachmaninoff, Liszt, Evgeny Kissin and Liberace. Along with being a part of Sacred Oath, Damiano performs in Tribute Band Rock of Ages – the Def Leppard Tribute in Theaters, Festivals and Casinos across the country.
Damiano plays Bolt and Jackson Guitars as well as an arsenal of various Guitars, MXR Effects Pedals exclusively and is endorsed by Marshall Amplification and Ernie Ball Strings. He will be making his Sacred Oath debut on the new upcoming record "Return of the Dragon".
SCOTT WAITE
Scott Waite first joined Sacred Oath in 2007 for the World Indivisible Tour and can be heard on the live album "Till Death Do Us Part" and the self-titled studio album "Sacred Oath" that followed in 2009.  His interests are astronomy, reading (sci-fi and books on theoretical physics and futurism), hiking, yoga, and songwriting.  He's a supporter of the ancient astronaut theory, and in his spare time he creates sonic experiments in his sci-fi influenced "Project Bluebook" where he plays guitar, bass, and synth.  Scott has also recorded two albums and 3 singles with Rob in Soundscape.